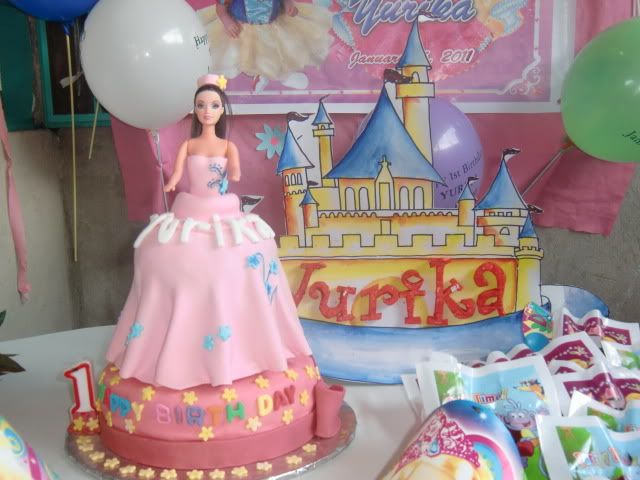 Ruel's good friend since college asked him if I can make a birthday cake for her daughter's first birthday. He had shown her a picture of the last Dora cake I made and I think she must have liked it. She said that she had been going around the city trying to look for a nice cake but the prices are way way beyond her budget. I'm so excited to make the cake this time since its going to be a two-tier cake. It's my first time to try stacking cakes. So here it is. I know this isn't as perfect or as good as any professional baker but I've done this with so much love and care.
The first design that we made was 2 tiers of double layer round chocolate cake with a small princess doll on top. Pink would be the color motif. Round cakes are easier to work on with fondant covers. But then when Ruel saw the Barbie cakes on the net he said that it would be themed-related if I can make one like it. So I thrashed my design and started from scratch again. To make the Barbie princess stand out we decided to put her on top of the two-layers cake.
The color concept of the cake was to make the dress light pink and then make a few tones darker on the cake and the ribbon. I think the blue and yellow flowers blended perfectly on the dress and the base cake.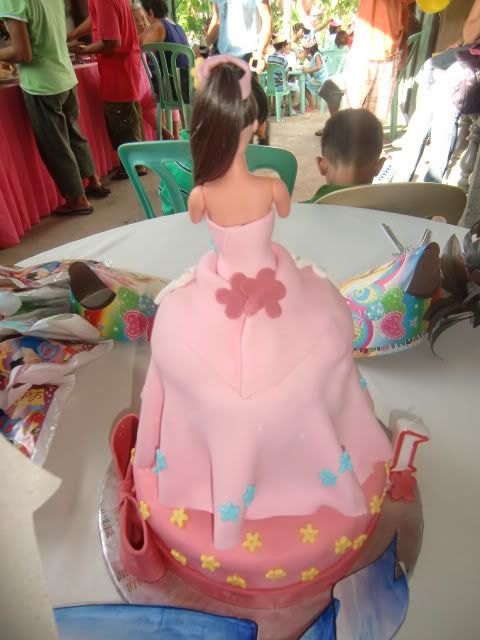 If you notice the blue line on the bodice and rights side skirt of the gown, I just hand painted it using a paint brush. For the name Yurika, I asked my boyfriend to have it cut out for me using fondant. I'm not quite good at it. It's nice to have someone whose more crafted on letter cutting.
Again, the frosting inside was buttercream but I addedd a few drops of red to make the color pink to go with the dress. Everything was edible except the plastic doll, the candle and the cake plate of course. (LOL)
Even though its not that perfect but it came out pretty and its worth the pain in putting up this cake. I enjoyed making it as well.
What's important is they adore the cake that after we left the party they still haven't touch it. It is already two days since the party and I wonder if they have already eaten the cake. =)
The birthday girl in her fuschia princess dress with tiara and scepter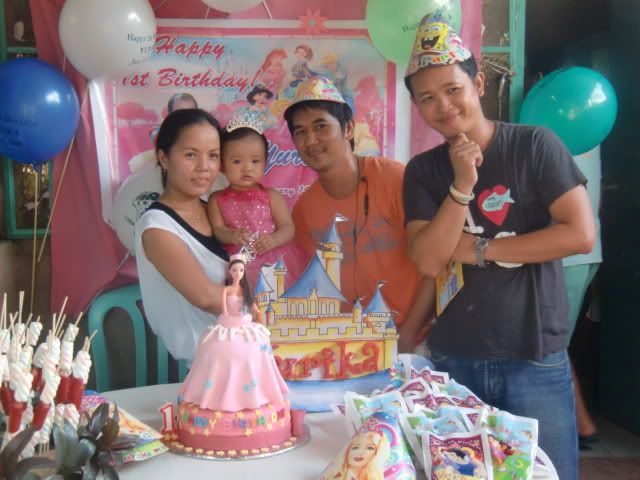 With Mom and her two ninongs