I wanted to thank Marikoy of
mareeyah.com/ako
for giving a chance to be a part of surprising her husband last Valentines day. A week before Valentines I received a message from her asking if I can make a cake to surprise her husband for V-day. I said yes. She didn't have anything for the design so I asked her what does her husband likes to do or favorite things to do. She told me that he likes cars and loves to play chess too so she came up with an idea of a chess board cake with a black king and white queen in the center and hearts on the opposite sides.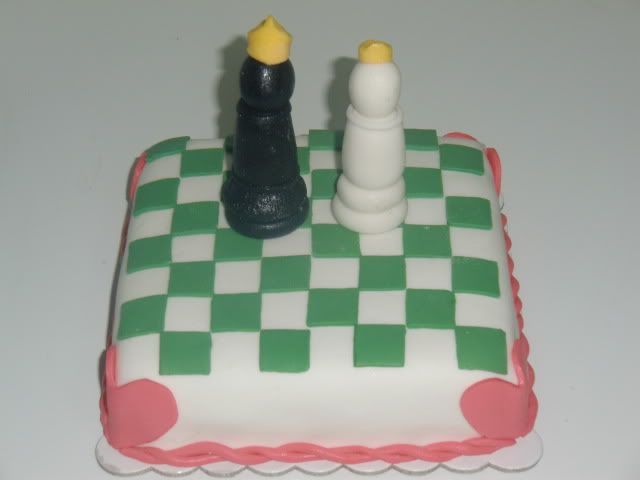 It's just a plain chocolate cake with buttercream icing covered with white marshmallow fondant. My boyfriend was the one who gave me the idea on how to make the king and queen chess piece. I don't know where he got the idea but I was thankful to him cause he made it easy for me to do. Instead of putting a cross on the king, I suggested that we make little crowns for the head.
On Valentines day, I personally delivered this cake to her husband as what I promised her. I've know Marikoy since high school, we were classmate but hadn't got the chance to meet her husband during their wedding cause I was not able to attend it due to a flu. I got in Talisay around 11 in the morning and I sent a message to her husband telling him that I was waiting at the guard house with a surprise from his wife. Her husband was so kind that he even asked me to have lunch with him but I politely said no because I was in a hurry to go back to Bacolod.