If you would ask me how did I celebrated my Valentines day, I would say very very very busy. My boyfriend and I didn't have our date, instead we had dinner at home with my family and my brother's girlfriend which everybody enjoyed.
A week before the hearts day I was busy making red chocolate heart lollipops for the children of Sum-ag Elementary School and several orders of chocolate cakes. And on Valentines Day, I delivered them all myself =)
It was tiring but I had fun and I think I lost a few pounds after walking and skipping lunch but gained twice after a sumptuous and gastronomic dinner.
I called it Project Lollipop. Since chocolates cakes are quite not affordable, i thought of something that even elementary students can afford to have one. I was thinking of chocolate lollipops for Valentines day. I bought a heart with a rose plastic mould, plastic lollipop sticks, plastic wrapper, red metallic ribbon and a few red chocolate bars.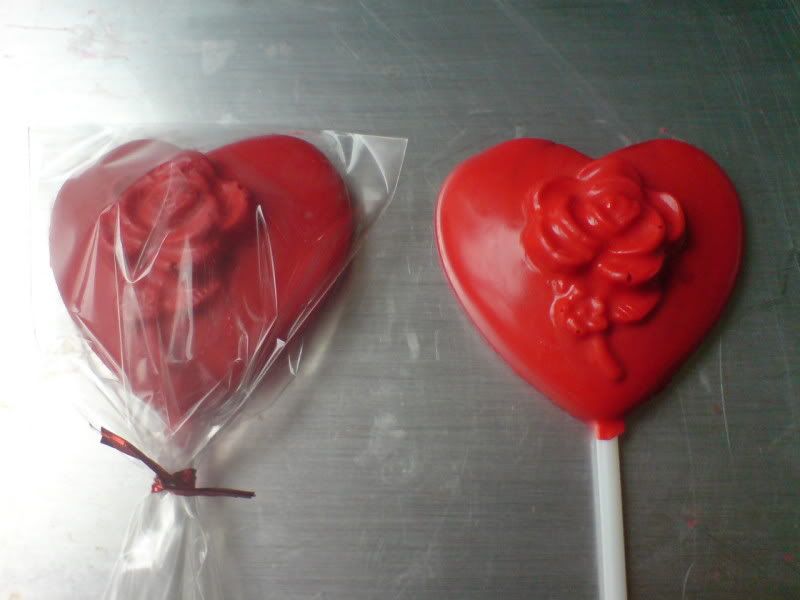 Kids definitely loved the taste of this red chcolate because its not too strong and too sweet. I think I'll make more of this for next years Valentines day. I'm too excited. LOL.
After I'm done with the lollipops, I had to make several chocolate cakes. I started baking them Sunday morning cause I was sick the whole Saturday, I had fever. Good thing I felt better the next day when I asked my mom to give me a massage on Saturday evening.
The cakes are simple. A six inch round chocolate cake with chocolate fudge icing.
Since it's the Heart Day, Ruel and I made this cute cake boxes from bristol board, cupcake design wrapper and acetate. Even though it was raining that Sunday morning, he showed up at the doorstep around noon time just to help me with the cakes. Sweet!
Of course! I made a cake for him as well. I simply didn't told him that one of the cakes was for him. It wouldn't be a surprised anymore and I don't want to spoil it.
The cake on the right was for my boyfriend. It was a chocolate marble cake. My first time to do it. Instead of mixing it with cocoa powder, I melted real chocolate and mixed it with the batter.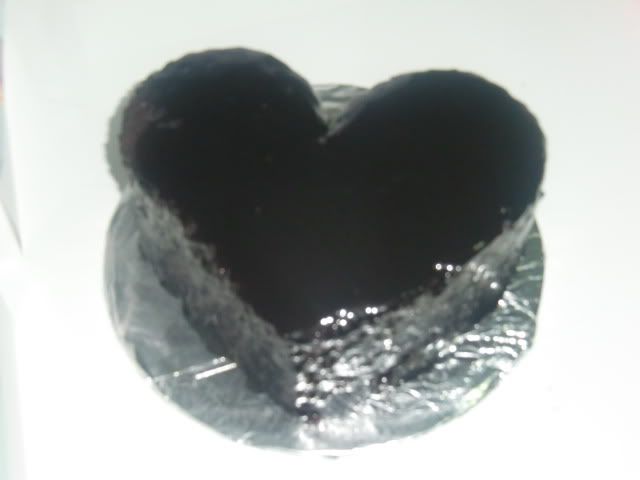 Tadaaa!!! My chocolate marble cake with chocolate fudge icing for my special Papu. Happy Valentines Day Pa! Hope you like my surprise!
Belated Happy Valentines Day to all!!!!