When it comes to cakes, we Filpinos just couldn't resist a calorific chocolate cake. Ruel's second cousin will be celebrating his 21st birthday today and they requested if I can make them a simple chocolate birthday cake.
I don't know why I'm so addicted to chocolates, chocolate candies and bars, chocolate drinks and lots and lots of cakes with chocolate as one of its ingredients.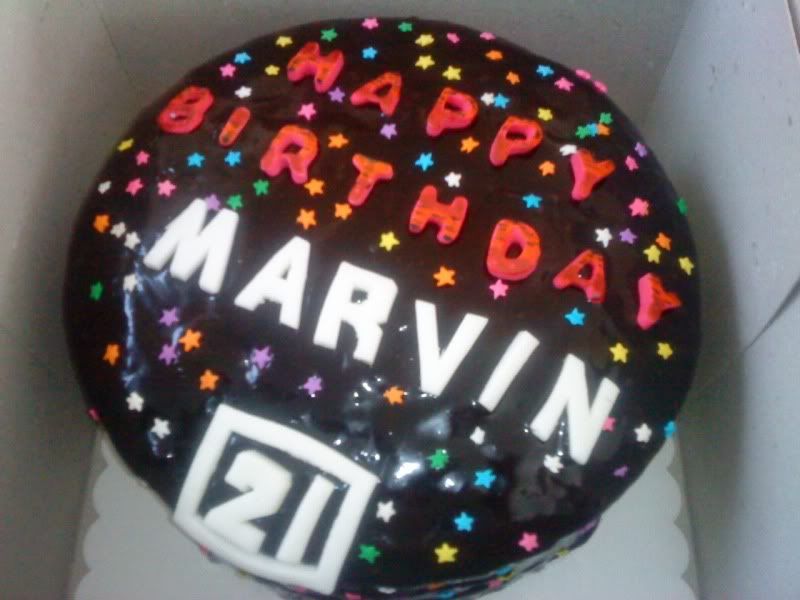 Instead of the usual two layers with filling in between, I made it three layers of super super rich in Swiss cocoa chocolate cake. The filling is a vanilla pudding made of egg yolks, milk, sugar, cornstarch, butter and vanilla.
For the frosting, I used Bensdorp cocoa, condensed milk, evaporated milk and butter cooked for several hours in a double boiler until it thickens in spreading consistency. This is a very tedious job and next time i'll try cooking it in a heavy saucepan to lessen the cooking time.
And my chocolate icing needs more time cooking because after a few minutes of pouring it on the cake, the icing started dripping on the sides leaving the top portion with a very thin coat. Good thing I didn't pour everything on the cake so I return the icing on the stove.
Not much on the presentation, just star shape candy sprinkles. I just hope that they would like the taste. This is my first non fondant birthday cake and I hope that I can also make a cake with boiled icing but I think I need to practice more on making boiled icing. More egg white and sugar to waste (sigh).