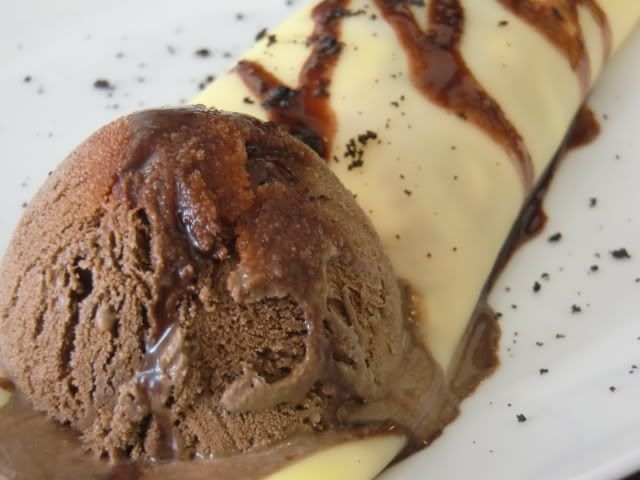 Who would have thought that this small cafe we often passed by in Shopping is where you can taste the most yummy crepes in the city. I always thought that Simi's Pastries and Coffee is just like any ordinary cafe or coffee shops that sprouted in Bacolod not until yesterday when Eastern invited to treat us for dessert after we had our lunch at Pamilya Grill (Lil' Bobs as Eric called them).
We told her that we want to try something new besides Calea or Felicia's so she brought us to Simi's. She told us that they served the best crepes, so we ordered crepes of different flavor for each. I ordered Chocolate Almond with ice cream and Eric tried Peaches with ice cream. The prices for their crepes varies from Php 45-80 and if you want an ice cream
toppings on it you'll just have to add Php 10. Other flavors are nutella, mango, banana and strawberry and cream.
I took the pleasure in enjoying my Chocolate Almond crepes. I like how you can still taste the almond nuts and chocolate syrup in the richness of the cream.
Aside from crepes you may also choose from their wide array of cakes and pastas or just sip a cup of coffee while talking or surfing the internet using their wifi access.